Artist in Light II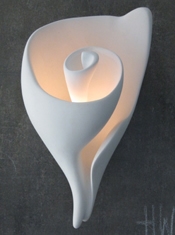 Hannah Woodhouse's works of art explore sculptural form through lighting. In this exhibition she studies the shapes and textures of the natural world and the human form. Her lamps appear as enigmatic and majestic figures rising up to greet the viewer in a haunting fashion.

Woodhouse creates her highly animated lamps in bronze and plaster. The archaic technique of lost-wax casting is used to work the bronze into limited edition pieces. Monumental, silent and powerful, her plaster lamps and wall sconces are like over-size shells, pods and bones. The plaster is left white to emphasise its brittle, bone-like quality.

Shades are sculpted with real petals, lime slices, bark paper, wire and fabric. Like the lamp bases they reflect Woodhouse's exceptional sense of balance and grace.

Before moving into sculpture Woodhouse worked for fashion designers Valentino and John Galliano. She has lived in Italy and France and is influenced by the work of sculptor Alberto Giacometti.

Woodhouse has a BA hons degree in French and Italian from Bristol University. In the early 1990's she learnt how to cast bronze and weld metal, doing specialist courses at The Henry Moore Foundation and Central St Martin's School of Art.

Woodhouse had a solo show at The Study in London in 1997 (Artist in Light 1). In 1998 she was invited to exhibit her work in Sotheby's Contemporary Decorative Arts exhibition. She now works in partnership with her husband William Denniston, from their home in Kennington, South West London.


1 March 2011