Art Wall Lights Exhibition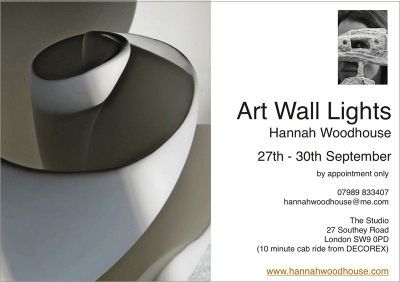 Art Wall Lights is an exciting new departure for Hannah. It marks the introduction of a new and bespoke service for interior designers and private clients, making custom made wall lights and appliques in plaster, bronze, rusted iron, leather and glass.
The Studio is situated in Vauxhall (nearest tube stations OVAL or STOCKWELL) or about 10 minutes cab ride from DECOREX in Chelsea.
Hannah is there every day from 9 am - 8 pm , Monday - Thursday this week.
If you have problems trying to contact the Studio, please call the landline 0207 7356027 as the orange coverage in the area has been disrupted this week.
If you cannot get through, JUST COME ALONG!
27 August 2010